HandMaidens Cottage Apron Giveaway and Interview
Morning kittens hope your having a great Monday even though Monday is not the best day lol.




I'm so excited this morning to announce my Favorite Apron Maker on etsy is offering a giveaway through my blog for all you lovely bloggers.




I'm also doing a interview with her shes such a sweetheart so here it is!




Purple font is Lynn

and I'm the green font



1.So tell us a bit about your self whats your name where are you from?



I'm Lynn and I love living the creative life! I am inspired by our little cottage that sits on over two acres only a stone's throw away from the City limits of our small community. I grew up in the country near my Grandparent's dairy farm only five miles away from where I live now. I have managed to travel a little in between!
I am the mother of twins and the grandmother of three precious children and another coming: Brianna (6), Alivia (2) and Noah, 11 months, and Christopher is on his way.
I share my life and home with a wonderful man, Brad, an Architect, who is so creative in his right and so very supportive in my work.



2.Are you a full timer on etsy or do you have another shop ,if so what do you do?


I am a full-timer!
I have a liberal arts degree from a Jesuit University and my career was in finance. I am so lucky to have found my true passion now. I've been doing all types of needlework since I was a child and feel like I've finally "come home."




3. Where did you come up with the name for your shop and what inspired you to start making aprons and all the other pretty items you make?


Well, the "Cottage" part is easy to explain…that's the style of our home.

There's a little more to the "Handmaiden" part. I guess the simplest way of putting it is that it's a dedication to Mary, the ultimate "Mother" in my eyes and to remind me everyday that I am in service to God and others through my work. I believe that God, working through the Universe, is the source of my creativity.

I'm not sure why I started making aprons, I don't even wear aprons, but I love them. My long history with aprons started with my Polish Grandma, who was never without one! I love finding vintage aprons that have been worn and worked in to the point where they are in the poorest condition and I remake them.

4.

What is your favorite apron you have ever made?(include a pic if you can lol)



I guess this is my favorite!

Lisa wanted a cupcake half apron as a gift to motivate her sister-in-law to cook more...Aunt Ruthie (sugarpiefarmhouse.com) had me embroider "Sugar Pie" on the pocket and at Kelly's request, I turned a cute half apron into the "full flirty."

So, this is the end result!

(this is her by the way shes one hot grandma)



5.What do you like to do on your time off any hobbies?


Time off, what's that?
I am a volunteer Master Gardener (well the "Master" part is quite a stretch) through the Ohio State University Extension Office in our area and gardening is also one of my great loves, especially flower gardening. My mother (whom I dearly miss) had a very, very green thumb!






6. Okay everybody gets this one if you could pick 3 people dead or alive to have dinner with who would it be and why.


This is a tough one:
Well, I would have to say my Mother, who passed away 4 years ago. Besides, if I don't she'll yell at me!! Haha. I'd just love to sit with her again and have a bowl of her homemade Chicken Noodle soup.
Mary, the Handmaiden, of course…for obvious reasons.

Next would be St. Francis of Assisi, the Patron Saint of Animals, because I love animals…also, he was kind of a rich playboy who changed his entire life and became an advocate for nature and the poor. I admire that!
This is the super pretty and sweet Lynn

Giveaway Time!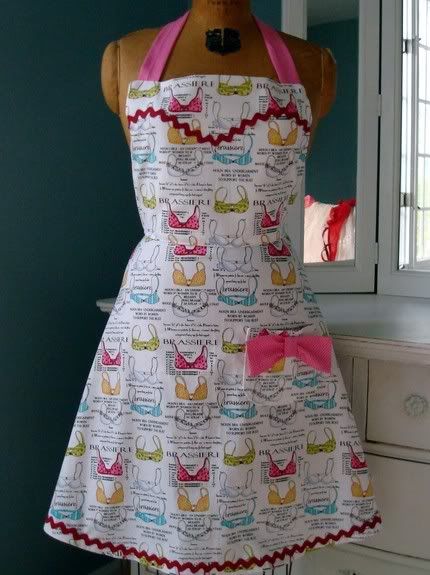 Okay now all you guys have a chance to win this amazing lingerie print apron.
Here's how to enter go to handmaidenscottage.etsy.com and tell me which apron of hers in your favorite.
You must be a follower of my blog to enter.
You get 2 extra entries for for tweeting this link me to your twitter.
You get 4 entries for blogging this also link me to your post.
This is also open to international followers ill ship this anywhere

Good Luck
Giveaway ends 2 weeks from today Nov 2nd